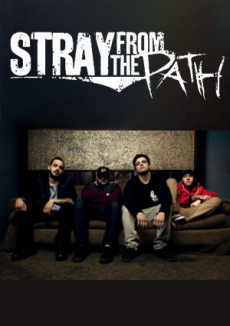 Stray from the Path Tickets
Die Jungs von STRAY FROM THE PATH bieten Hardcore Punk der Extraklasse. Kein Stein bleibt auf dem anderen, kein T-Shirt trocken und kein paar Füße ruhig stehen. Seit 2008 gibt es die Urbesetzung zwar nicht mehr, aber STRAY FROM THE PATH sind zurück und zwar noch kraftvoller als je zuvor.

2001 gegründet, haben sich STRAY FROM THE PATH in den letzten Jahren eine weltweite Fanbase erspielt. Die eigenständige Mischung aus Alternative und Hardcore-Elementen hat die Band aus Long Island (New York) groß rausgebracht. Ihr Debutalbum "People over profit" erschien 2002 in Eigenregie und mischte die amerikanische Punkszene auf. 2008 kam es nach nur drei Studioalben dann zu Wechseln innerhalb der Band. Inzwischen haben sich STRAY FROM THE PATH davon aber längst erholt und sind ständig bereit, zum nächsten musikalischen Schlag anzusetzen. Besonders hervorzuheben ist hierbei ihr 2013er Album "Anonymous", das wieder auf starke Punk- und Hardcore-Elemente setzt.

Live setzen die Jungs dann nochmal gepflegt eins drauf. Das durfte man auch schon bei großen Tourneen mit großen Namen wie "Everytime I die", "Stick to your guns" oder "Bleeding Through" erleben. Nicht umsonst waren STRAY FROM THE PAST schon des Öfteren mit bekannten Größen unterwegs.

Zugegeben: Das ist keine Musik für die ganze Familie. Aber ein STRAY FROM THE PATH Konzert kommt einem Happening gleich, bei dem man einfach mal die Sau rauslässt und feiert, als gäbe es kein Morgen mehr. Wer immer über aktuelle Ticketvorverkäufe und Tour-Termine informiert werden möchte, meldet sich einfach bei unserem Eventalarm an und bekommt jederzeit die neusten Ticketinfos und Termine.

Event Alert for Stray from the Path
Video
Reviews