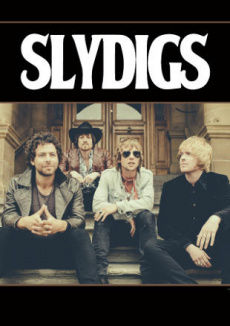 Slydigs tickets
Wenn der Berufsberater einem sagt, man könnte eigentlich nur Bauarbeiter oder arbeitslos werden, was macht man dann? Richtig: Man gründet mit seinem Kumpel eine Rock'n'Roll Band und beweist diesem Versager das genaue Gegenteil! So geschehen im beschaulichen Newton, England.

Die Freunde Dean Fairhurst (Gesang & Gitarre) und Louis Menguy (Lead-Gitarre) drücken die Schulbank zusammen und entschließen sich gegen die ruhmreiche Karriere auf dem Bau und wollen ihr Geld lieber mit ehrlicher, handgemachter Musik verdienen. Gemeinsam mit Peter Fleming (Drums) und Ben Breslin (Bass) gründen die beiden die Rock'n'Roll Band SLYDIGS, frei nach dem Motto: Some people never go crazy, what truly horrible lives they must live.

Mit zwei großen Vorbildern im Umfeld (Oasis und die Beatles) haben die Nordwestengländer von SLYDIGS den Rock'n'Roll quasi schon mit der Muttermilch aufgesogen und schaffen es, mit ihrem Sound auch ein unbekanntes Publikum schnell für sich zu gewinnen. Und nicht nur die Konzertbesucher zeigen sich begeistert, sondern auch die großen Vorbilder! So konnte das UK-Rock-Quartett schon im Vorprogramm von THE WHO überzeugen und wurde auch schon von Bands und Künstlern wie Paul Weller, New York Dolls, The Fall, Alabama 3, Peter Doherty, Idlewild und The Rifles als Support engagiert.

Bei SLYDIGS trifft handgemachter Rock auf echte Spielfreude – und das reißt mit! Sobald es neue SLYDIGS Tickets gibt, informieren wir unsere Abonnenten über unseren Eventalarm und Newsletter.

Event alert for Slydigs
Video