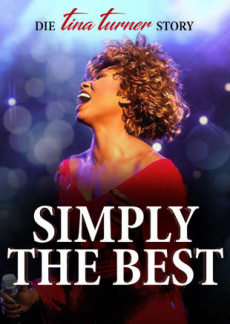 Simply the Best - Die Tina Turner Story Tickets
•
Tour 2019/2020

2 Events: 30.12.2019 - 04.04.2020, Tickets from € 56,90
SIMPLY THE BEST
Dortmund

•

Westfalenhalle / Halle 3A
• 08:00 PM
SIMPLY THE BEST
Bremen

•

Metropol Theater Bremen
• 08:00 PM
Simply the Best - Die Tina Turner Story
Ein bewegtes Leben mit einer großartigen Karriere. TINA TURNER gehört mit über 180 Millionen verkauften Tonträgern zu den größten Rock-Legenden unserer Zeit. Sie schrieb ein halbes Jahrhundert Rockgeschichte mit grandiosen Höhepunkten, Aufstieg, Fall und einem der imponierendsten Comebacks aller Zeiten.

SIMPLY THE BEST - Die Tina Turner Story und begibt sich auf eine Zeitreise durch fünf Jahrzehnte Musikgeschichte dieser Powerfrau. Hier können die Besucher die größten Hits der Rock-Ikone noch einmal live erleben! Wer sich zum Eventalarm anmeldet, wird per E-Mail benachrichtigt, sobald wir neue Tickets haben.
Biography
Anna Mae Bullock erblickte als Tochter eines Baptisten und einer Arbeiterin mit indianischen Wurzeln, am 26. November 1939 in Tennessee das Licht der Welt. Schon früh begeisterten ihre Eltern sie für den Kirchenchor, in dem sie ihre ersten musikalischen Schritte ging.

Nach der Scheidung ihrer Eltern 1955 zog Anna Mae zusammen mit ihrer Schwester und ihrer Mutter nach St. Louis, wo sie 1958 Ike Turner kennenlernte. Ab diesem Zeitpunkt begann ihre musikalische Karriere. Zunächst als Backroundsängerin für die "Kings of Rhytm", wurde sie schnell zum Shootingstar und somit zu TINA TURNER (Der Name wurde ihr von Ike aus Promotionzwecken gegeben).

Ike und Tina änderten den Bandnamen in Ike & Tina Turner um, und wurden mehr als nur ein Gesangsduo. 1960 kam ihr erster gemeinsamer Sohn Ronald Renelle zur Welt und zwei Jahre später heirateten die beiden.
Es folgten viele gemeinsam erfolgreiche Jahre. Ike & TINA TURNER gingen gemeinsam mit den Rolling Stones auf Tournee, Tina nahm mit Produzent Phil Spector den großen Hit "River Deep, Mountain High" auf und sie erhielten einen Grammy Award als bestes R&B Duo mit dem Song "Proud Mary".

Mit dem Song "Nutbush City Limits" bewies sich Tina als großartige Songwriterin und erreichte Platz 2 der deutschen Single Charts. Mit dem immensen Erfolg von TINA TURNER wuchsen jedoch auch die Beziehungsprobleme. Ihr Ehemann Ike fiel immer mehr durch Drogenkonsum und Gewalttätigkeit auf, weshalb 1978 die Scheidung folgte.

TINA TURNER konnte nicht direkt an den Erfolg mit Ike anknüpfen. Erst ihre Nice-'n'-Rough-Konzerte der frühen 1980er Jahre verhalfen ihr langsam aus dem Karrieretief. Musiker wie David Bowie, Tom Jones und Rod Steward wurden aufmerksam und verhalfen ihr zu Gastauftritten. Doch erst das Nummer-Eins-Album "Privat Dancer" verhalf ihr beim Sprung zu den ganz Großen. Gleich die erste Single-Auskopplung "What's Love Got to Do with It" kletterte auf Platz eins der Charts woraufhin drei Grammy Awards für die Rock-Legende folgten.

In den Jahren darauf macht sie einen Abstecher in die Welt der Filmstars, als Aunty Entity im Film Mad Max- Jenseits der Donnerkuppel, trat bei Song-Projekten wie "We Are The World" mit anderen Weltstars auf, veröffentlichte ihr Album "Break Every Rule" und die Biografie Ich, Tina – Mein Leben.

Nach dem rekordhaften Konzertauftritt 1988 im Maracanã-Stadion in Rio de Janeiro vor 188.000 Menschen und dem Album "Foreign Affair", wird es langsam stiller um TINA TURNER. Mit dem Film "Tina – What's Love Got To Do With It?" schließt sie mit ihrer turbulenten Vergangenheit ab und landet 1995 noch einmal einen Charterfolg mit dem James Bond Titelsong "Golden Eye".
2009 beschließt TINA TURNER endgültig aus dem Musikgeschäft zurückzuziehen.

Und doch bleibt sie nicht vergessen. Mit dem SIMPLY THE BEST - Die Tina Turner Story kommen Fans noch einmal in den Genuss die größten Hits der Rock-Ikone, wie "Proud Mary", "Simply the Best", "Private Dancer" oder "We Don't Need Another Hero", live zu hören.
Reviews