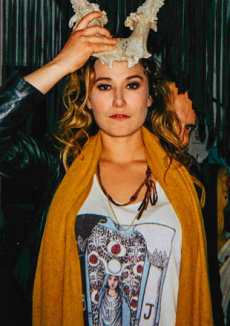 No Sinner Tickets
Colleen Rennison, die Frontfrau von NO SINNER, ist eine echte Powerfrau mit einem wahnsinnigen Sex Appeal und einer unglaublichen körperlichen und stimmlichen Bühnenpräsenz. Kein Wunder, dass Kritiker das End-Zwanziger Energiebündel mit Gesangs-Ikonen wie Amy Winehouse, Etta James, Janis Joplin oder Nina Simone und Tina Turner vergleichen!

Mit ihrem Debütalbum "Boo Hoo Hoo" (2014) hat die 1987 geborene kanadische Sängerin Colleen Rennison mit ihrer Band NO SINNER den Rock'n'Roll Boys-Club ordentlich aufgemischt! Rock, Soul und Rhythm and Blues donnern hier genauso über einen hinweg wie die gewaltige Stimme von Rennison selbst. Eine Stimme, die so rief ist, dass Rennison wegen ihr vom Schauspielunterricht ausgeschlossen wird - zu tief für weibliche Rollen. Aber genau richtig für Rock!

Nach der verkürzten Schauspielkarriere kehrt Colleen Rennison also nach Vancouver zurück und gründet zu unser aller Freude mit dem ehemaligen Bassisten der Band Hot Hot Heat Parker Bosley die Band NO SINNER, die ein Anagramm des Nachnamens der Powerfrau ist.

Das Classic Rock Magazine bejubelt die Rock-Kombo als "Band to watch 2014" und NO SINNER gehen mit Beth Hart auf Tournee. 2016 folgt das zweite Album "Old Habits Die Hart", über das Rennison urteilt: "Wenn 'Boo Hoo Hoo' wie das Foto einer High-School-Abschlussfeier war, ist 'Old Habits Die Hard' mein erstes Fahndungsbild!" Ganz klar: Hier wird das stilistische Spektrum noch erweitert, hier folgt Feuer!

Wer Colleen und ihre Jungs live erleben will, meldet sich schnell zum Eventalarm an und verpasst keine neuen NO SINNER Tickets für Konzerttermine!


Event Alert for No Sinner
Video
Reviews