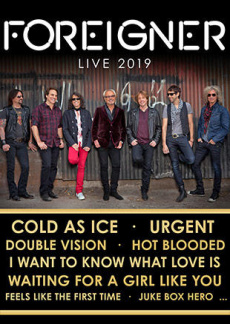 Foreigner Tickets
•
Live 2019

5 Events: 30.06.2019 - 15.07.2019, Tickets from € 58,90
FOREIGNER + ALAN PARSONS LIVE PROJECT (Würth Open Air 2019)
Künzelsau

•

Open Air Gelände des CARMEN WÜRTH FORUM
• 06:00 PM
FOREIGNER
Flensburg

•

Flens-Arena
• 08:00 PM
FOREIGNER
Lübeck

•

Kulturwerft Gollan
• 08:00 PM
FOREIGNER
Büren

•

Almeauen Büren
• 06:30 PM
FOREIGNER
Berlin

•

Zitadelle Spandau
• 07:00 PM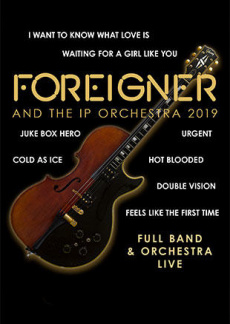 Foreigner Tickets
•
With the IP Orchestra 2019

3 Events: 06.07.2019 - 12.07.2019, Tickets from € 58,40
FOREIGNER
Ulm

•

Klosterhof Wiblingen
• 08:00 PM
FOREIGNER
Mainz

•

Volkspark Mainz
• 07:00 PM
FOREIGNER
Gelsenkirchen

•

Amphitheater Gelsenkirchen
• 08:00 PM
Foreigner
Seit 40 Jahren eine echte Rock-Institution: Mit über 50 Millionen verkauften Alben und All-Time-Favourites wie "Feels Like The First Time", "Jukebox Hero", "Cold As Ice", "I Wanna Know What Love Is", "Urgent" und "Waiting For A Girl Like You" zählen FOREIGNER zu den beliebtesten und erfolgreichsten Classic Rock Bands der Welt.

"Unsere Musik hat viele Menschen weltweit berührt", erinnert sich Mick Jones, der Leadgitarrist und Gründer von FOREIGNER. "Wir sind ganz unabsichtlich fest mit dem Leben der Menschen verwoben."
Video
Biography
Es ist das Jahr 1976: Steve Jobs und Steve Wozniak gründen in einer Garage eine Firma namens "Apple". Die USA feiern den 200. Jahrestag ihrer Unabhängigkeit. Die erste NASA Sonde landet auf dem Mars. Und die britischen Musiker Ian McDoncald, Mick Jones (Gitarre), Dennis Elliot (Schlagzeug) gründen mit den amerikanischen Kollegen Al Greenwood (Keyboard), Ed Gagliardi (Bass) und Lou Gramm (Gesang) in New York eine Band namens FOREIGNER.

Das Debütalbum "Foreigner" erscheint bereits im Folgejahr und sorgt mit den Top Ten Singles "Feels Like The First Time" und "Cold As Ice" dafür, dass die Platte sich allein in den USA mehr als fünf Millionen Mal verkauft! Doch die Jungs lehnen sich nicht erstaunt zurück, sondern geben weiter Gas: 1978 erscheint das Folgealbum "Double Vision" und wird sogar noch erfolgreicher.

Mit dem vierten Album "1" von 1981 schaffen FOREIGNER dann auch den endgültigen Durchbruch in Europa. Songs wie "Urgent", "Juke Box Hero" und "Waiting for a Girl Like You" dominieren die Charts und die Radio-Playlisten. Und dass da immer noch mehr geht, beweist der Chartbreaker "I Want to Know What Love Is" von 1984!

Unvergleichliche Gitarren-Hooklines, ein unfassbar gutes Gespür für Songwriting und grandiose Melodien Machen FOREIGNER zu einer der populärsten Bands der späten Siebziger bis späten Achtziger. Und so viel kreative Power lässt sich natürlich auch nicht ausbremsen!

Leadgitarrist Mick Jones schrieb u.a. Songs für Eric Clapton oder Ozzy Osbourne und wurde 2013 in die Songwriters Hall Of Fame aufgenommen. Aktuell bestehen FOREIGNER aus: Mick Jones (Leadgitarre), Kelly Hansen (Lead-Sänger), Jeff Pilson (Bass, Gesang), Tom Gimbel (Rhythmusgitarre, Saxofon, Gesang), Michael Bluestein (Keyboard), Bruce Watson (Gitarre) und Chris Frazier (Schlagzeug).

Wer die Classic-Rock-Legenden einmal live erleben will, registriert sich am besten kurz für unseren Newsletter oder Eventalarm und wird benachrichtigt, wenn wir neue Termine und Tickets für FOREIGNER im Angebot haben.

Reviews