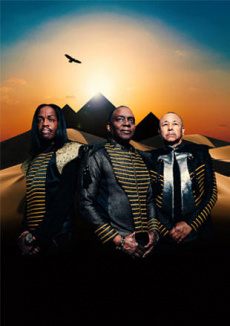 Earth, Wind & Fire Tickets
Soul und Funk wie in guten alten Zeiten: EARTH, WIND AND FIRE begeistern ihre Fans seit 1969 mit lebendiger Popmusik gemischt mit R&B und afrikanischen Elementen. Durch ihren mitreißenden Sound und ihre extravaganten Bühnenshows sowie Kostüme sind sie bis heute international erfolgreich. EARTH, WIND AND FIRE Tickets sind ein Garant für zeitlose Musik, wie sie sein sollte.

Event Alert for Earth, Wind & Fire
Video
Biography
Ursprünglich gegründet wurde die Band 1969 von Maurice White. Eine Besonderheit ihres unkonventionellen, neuen Sounds war die Bläsergruppe Phenix Horns, die einen Großteil der damals zehnköpfigen Gruppe ausmachte. Der erste große Erfolg ließ nicht lange auf sich warten: Im Jahr 1975 nahmen EARTH, WIND AND FIRE den Soundtrack für den Film "That's the Way of the World" auf, in dem sie zeitgleich mitspielten, und landeten mit der ausgekoppelten Hitsingle "Shining Star" weltweit wochenlang in den Top 10.

Es folgten zahlreiche preisgekrönte Alben, wie das Platin-Album "All `N All" (1977), "I Am" (1979) und "Millenium" (1993). Zur Jahrtausendwende im Jahr 2000 wurde die Band in die Rock and Roll Hall of Fame aufgenommen. Philip Bailey ist seit 1972 Teil der Band und übernahm nach dem krankheitsbedingten ausscheiden Maurice Whites Gesang, Congas und Schlagzeug. Die neuesten Mitglieder neben Bailey, Ralph Johnson (seit 1972), B. David Withworth (seit 1996), Gary Bias (seit 1987) und Reggie Young (seit 1987), sind Bobby Burns (seit 2004) und Kim Johnson (seit 2005).

Durch ihre Dekaden umfassende Bühnenerfahrung weiß EARTH, WIND AND FIRE sich bis heute eindrucksvoll zu präsentieren. Ihre Bühnenshows sind durchdacht und atmosphärisch auf die unterschiedliche Musikstil-Bandbreite ihrer Songs abgestimmt. So liefert die Band bis heute lebendige Sounds aus ihrer "Bibliothek der Musik, welche die Zeit überdauert", wie Maurice White es formulierte. Wer keine Lust darauf hat, EARTH, WIND AND FIRE Ticketverkäufe zu verpassen, kann sich am besten bei unserem Eventalarm anmelden und wird informiert, wann und wo Konzerte stattfinden und wann es gilt, sich Tickets für EARTH, WIND AND FIRE auf myticket.de zu sichern.
Reviews