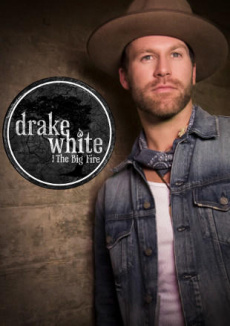 Drake White And The Big Fire Tickets
DRAKE WHITE AND THE BIG FIRE bringen unnachahmliche Country-Musik aus Nashville Tennessee nach Deutschland. Ein Mix aus Country, Blues, Funk, Rock and Roll und Reggae begeistert die Anhänger der Band und sorgt dafür, dass DRAKE WHITE AND THE BIG FIRE Tickets so beliebt und schnell auch mal ausverkauft sind.

Event Alert for Drake White And The Big Fire
Video
Biography
Drake White, der Leadsänger der Band, hat seine Wurzeln in Alabama, dem Ursprungsland der Country-Musik. Schon zu Kindeszeiten hat er seine Stimme einem kleinen und familiären Publikum zum Besten gegeben. Im Teenageralter schrieb er dann seine ersten eigenen Songs. Nach dem Abschluss seines Studiums arbeitete er tagsüber wie alle anderen auch und spielte nachts als waschechter Vollblutmusiker mit Soul-Organ mit seiner Band THE BIG FIRE. Die Bühnenpräsenz von DRAKE WHITE AND THE BIG FIRE ist immens und vor allem extrem energetisch. Während der Konzerte wird oft improvisiert – das ist nicht nur für das Publikum mitreißend. Dabei entstehen auch zu bereits bekannten Liedern immer wieder neue Texte. Freestyling ist ein vertrauter Bestandteil der energiegeladenen Konzerte von DRAKE WHITE AND THE BIG FIRE. Da Drake White ein großer Fan von Bob Marley und der Reggae-Bewegung ist, möchte er künftig auch selber noch mehr Reggae-Elemente in seinen Songs und Shows unterbringen. Ab und zu spielt die Band ihre bekannten Songs auf Livekonzerten in einer lässigen Reggae-Version.

2016 veröffentlichte Drake White sein Debütalbum "Spark". Songs wie "It Feels Good" oder "Livin' the Dream" zeigten sich sofort sehr erfolgreich. Das Debütalbum landete in den Top 10 der Country Album Charts. Bereits 2015 stufte der Rolling Stone Drake White als Countrysänger ein, den man unbedingt kennenlernen sollte. Das hat sich in jeder Hinsicht bestätigt. Sein Bekanntheitsgrad geht weiter steil bergauf. Drake White wurde für die Grammys in der Kategorie New Artist of Tomorrow nominiert. Tickets für DRAKE WHITE AND THE BIG FIRE sind über den Eventalarm immer sofort up to date, so verpasst keiner mehr eines der einmaligen Livekonzerte der Combo.

Reviews