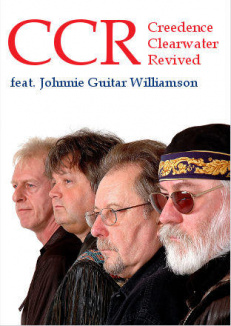 Creedence Clearwater Revived tickets
Die Woodstock-Legende CCR gilt in den 60er und 70er Jahren als eine der erfolgreichsten Rockbands der Welt. Mit Hits wie "Suzie Q.", "Proud Mary", "Bad Moon Rising" und "Who'll Stop the Rain" begeisterten sie ein Millionenpublikum. Seit fast 20 Jahren tourt CREEDENCE CLEARWATER REVIVED, eine Band, die sich der Faszination und dem Mythos der Originalband verpflichtet fühlt.

Event alert for Creedence Clearwater Revived
Artist biography
Die Band CREEDENCE CLEARWATER REVIVED ist dem Original aus den 60er Jahren täuschend ähnlich, was vor allem an der Stimme des Frontmanns John W. Doyle liegt. Wie auch der Originalsänger John Fogerty bringt er einen gekonnten Mix aus Swamp Rock und Country auf die Bühne und überzeugt damit das Publikum. CREEDENCE CLEARWATER REVIVED tritt mit einem All-Star Line-up auf: Johnnie Guitar Williamson, Gitarrist und Vocals, tourte bereits mit John Fogerty und CCR in Europa, Asien und Australien und ist Ex-Mitglied von Titanic und The Animals. Cris Allen, Bass und Vocals, ist Mitglied der Rock-Legende The Troggs. Walter Day, Drums und Vocals, tourte mit Don Henley von den Eagles sowie Smokie.

1997 sammelte der Gitarrist Johnnie Guitar Williamson erlesene Musiker zusammen, um anlässlich der 30-Jahres-Feier den Sound von CREEDENCE CLEARWATER REVIVAL wieder auferstehen zu lassen. Was eigentlich als einmaliges Event gedacht war, entwickelte sich dank des großen Erfolges und der enormen Nachfrage dann aber schnell zu einem dauerhaften Live-Projekt.

Die Band schaffte es mit ihrer Hingabe tatsächlich, den Spirit der Woodstock-Ära perfekt wiederzugeben und in die Neuzeit zu transportieren. Die CREEDENCE CLEARWATER REVIVED Songs klingen original und trotzdem zeitgemäß und lebendig. CREEDENCE CLEARWATER REVIVED strahlen live ihre überragenden musikalischen Qualitäten überzeugend aus und erinnern damit an die guten alten Zeiten. Informationen und Benachrichtigungen zu CREEDENCE CLEARWATER REVIVED Tickets sind über unseren Eventalarm zugänglich.