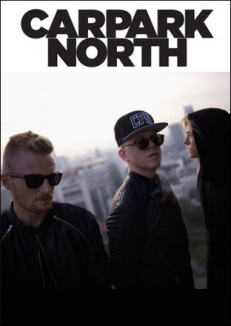 Carpark North Tickets
1999 von Lau Højen (Gitarre, Gesang), Søren Balsner (Bass, Synthesizer) und Morten Thorhauge (Schlagzeug) gegründet, hat die dänische Band Carpark North mit ihrem gleichnamigen Debütalbum von 2003 den dänischen Elektropop zu neuem Leben erweckt. Die Mischung aus Synth Rock und Elektropop schlägt in der Heimat durch und erreicht mit über 50.000 verkauften Platten schnell Platin-Status. Mit der Arbeit an den folgenden Alben nehmen Carpark North sich viel Zeit für den Feinschliff – und werden mit nicht minder großem Erfolg bei "All Things To All People" (2005) und "Grateful" (2008) belohnt.

Einem noch größeren Publikum wurde das Upbeat-Trio als Vorgruppe von 30 Seconds To Mars (2010) sowie den Auftritten bei Rock am Ring und Rock im Park bekannt. Laut.de beschreibt die Musik der Jungs, die 2004 in Dänemark mit ihrem Sound eine regelrechte Hysterie verursachten, als "eine sample-verzierte Mischung aus 80er Elektro und 90er Rock". Carpark North selbst wählen noch anschaulichere Worte für ihren Stil: "Wir klingen wie eine Schwulen-WG, in der A-ha und Korn leben." Wie auch immer man ihn definieren mag: Wir finden ihn super!


Event Alert for Carpark North
Reviews