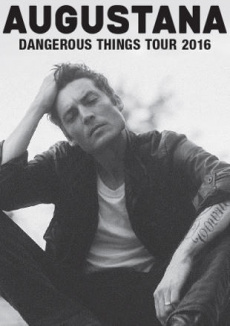 Augustana tickets
Ihre Songs sind bekannt aus beliebten Fernsehserien wie "One Tree Hill, "Scrubs" und "The Big Bang Theory" und ihr Sound begeisterte schon zig tausende Konzertbesucher im Vorprogramm von Top-Acts wie Maroon 5, Snow Patrol, Goo Goo Dolls, OneRepublic und vielen mehr. Die Rede ist natürlich von der US-Indie-Rock-Band AUGUSTANA, die aktuell mit niemand geringerem als den Dixie Chicks durch Europa touren.

Gegründet im Herbst 2002 (unter dem Namen The Looking Glass) in Illinois von den Greenwich College-Studenten Dan Layus, Josiah Rosen, Kyle Baker und Simeon Lohrmann, erscheint schon im Frühjahr mit "Midwest Skies And Sleepless Mondays" die erste CD von AUGUSTANA. Die 1.000 Kopien sind schnell in den Händen glückseliger Hörer verteilt und Ende des Jahres folgt die EP "Mayfield". Nach einem Umzug nach Südkalifornien und Besetzungswechseln touren AUGUSTANA erfolgreich im Vorprogramm unterschiedlicher Künstler wie wie Switchfoot, Maroon 5, The Fray, Counting Crows, Dashboard Confessional, O.A.R., Snow Patrol, The Damnwells, Goo Goo Dolls, Acceptance, Cartel und OneRepublic.

Das zweite AUGUSTANA Album "All The Stars And Boulevards" wird von Brendan O'Brien (bekannt durch seine Zusammenarbeit mit Pearl Jam, AC/DC, Bruce Springsteen etc.) produziert und landet prompt auf Platz 1 der Heatseeker-Charts. Die erste Single "Boston" wird in allen bekannten TV-Serien gespielt und das Album geht weltweit fast zwei Millionen Mal über die Ladentheke.

Nach zwei weiteren, erfolgreichen Alben folgt erstmal das Aus für AUGUSTANA im November 2011 – doch schon um Juli erweckt Dan Layus als einziges Gründungsmitglied die Band wieder zum Leben und knüpft mit "Life Imitating Life" an alte Erfolge an.

Wer sich zu unserem Eventalarm oder Newsletter anmeldet, erfährt als erstes von neuen Konzertterminen und sobald AUGUSTANA Tickets online verfügbar sind!

Event alert for Augustana
Video