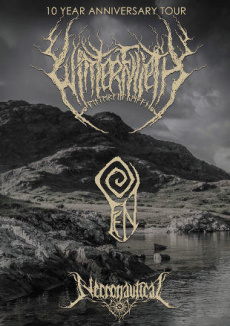 Winterfylleth Tickets
Schon der Name des Black Metal Quartetts WINTERFYLLETH eröffnet einen spannenden Erwartungshorizont an Klangwelten und Inhalten: Aus dem Altenglischen stammt das Wort "Winterfylleth" und ist eigentlich der Name für den ersten Wintervollmond im Oktober sowie das angelsächsische Fest zum Beginn der Winterzeit.

2007 gründen sich nun also WINTERFYLLETH und wollen mit ihrer Musik nicht nur feinsten epischen Black Metal machen, sondern auch dem Erbe, der Landschaft und der Geschichte Englands huldigen. Ganz klar: Mit so einer Mission wird es episch, atmosphärisch und hochemotional!

Schon das Demo "Rising of the Winter Full Moon" (2007) sorgt derart für Furore, dass die Briten direkt unter Vertrag genommen werden und schon im Folgejahr erscheint das von hochgelobte Debütalbum "The Ghost of the Heritage" (2010). Mit dem zweiten Album "The Merican Sphere" katapultieren sich Christopher Naughton (Gitarre & Gesang), Simon Lucas (Drums), Nick Wallwork (Bass & Hintergrundgesang) und Dan Capp (Lead-Gitarre & Hintergrundgesang) auf das internationale Parkett. WINTERFYLLETH werden von Metal Hammer, vom Kerrang Magazine und Terrorizer Magazine gefeiert und spielen auf Festivals wie Bloodstock, Roadburn oder Metal Camp.

Das nächste Album "The Threnody of Triumph" (2012) feiern die Briten auf allen wichtigen europäischen Festivals (u.a. Wacken, Hellfest, Graspop) und 2014 bringen WINTERFYLLETH gleich zwei Platten auf den Markt: "Thousands of Moons Ago/The Gates split with Drudkh" sowie "The Divination of Antiquity".

Wer den einmaligen Sound von brutal bis elegant, von atmosphärisch bis hochemotional live erleben will, meldet sich am besten zu unserem Eventalarm an und wird benachrichtigt, sobald wir neue WINTERFYLLETH Tickets haben.

Event Alert for Winterfylleth
Video
Reviews