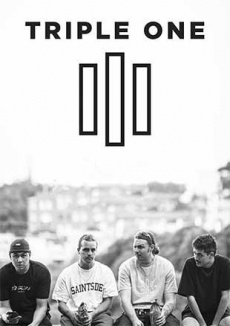 Triple One Tickets
TRIPLE ONE verkörpert eine Mischung aus düsterem Rap-Underground von Sydney und der Inner-West-Indie-Szene. Dabei ergänzen sich die Rapper von TRIPLE ONE wie eh und je. Marty Bukkake Large und Obi Ill Terrors liefern kräftige Takte und Lil Dijon sorgt für übernatürlich angehauchte melodische Hiebe, während Billy Gunns die meisterhafte Abstimmung der Produktion umsetzt. Daraus entstanden Klangexperimente zwischen hart, weich und allem, was dazwischen liegt. Die Wurzeln von Triple One entspringen dem Hip-Hop, doch die Gruppe experimentierte auch mit Metal, Pop, Punk und R&B und bewies auf diese Art die Vielseitigkeit ihres Könnens und scharfe Zurückweisung von Barrieren zwischen verschiedenen Musikrichtungen.

Event Alert for Triple One
Video
Biography
Die Singles "Doozy" und "Overflow" von Triple One erzeugten jeweils weit über 1 Million YouTube-Aufrufe, woraus sich eine Community von Fans aus Nordamerika und Osteuropa entwickelte. Die Band zählt zu einer der einzigen australischen Hip-Hop-Gruppen, die international über eine größere Fangemeinde verfügen als in ihrem eigenen Heimatland. 500.000 monatliche Spotify-Hörer unterstrichen die Erfolge. 2018 eroberten die Australier die Mainstream-Branche. Ihre Singles "Showoff", "Tarlo" und "Valentine Kid" wurden auf triple j auf hohe Rotation gesetzt. Im Laufe des Jahres wurden sie zudem zum triple j Unearthed "Artist of the Week", "Uncovered Artist of the Week" von [V] Music und "New Artist of the Week" von Apple Music ernannt und verdienten sich unter anderem einen Platz in der allerersten "Artists To Watch"-Liste auf YouTube Music.

TRIPLE ONE bewies sich als sehr vielseitig. Von Headbanger-Hymnen bis hin zu sanften Balladen. Es folgten ausverkaufte Headliner-Shows im ganzen Land und Auftritte im Vorprogramm von YG, Smokepurpp und Lil Yan, sowie auf einflussreichen Festivals wie dem Falls Festival, Listen Out und BIGSOUND.

Reviews