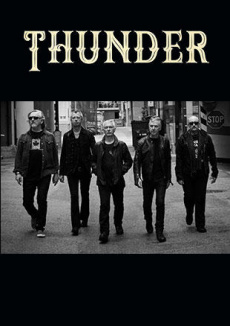 Thunder Tickets
Thunder ist eine Hardrock-Band, die sich 1989 in London aus den Überresten der Hardrock-Band Terraplane formierte. Das Debüt-Album "Backstreet Symphony" verfehlte nur knapp die Top 20 der britischen Albencharts und hatte Erfolg! Noch im selben Jahr, 1990, spielte Thunder im Vorprogramm von "Aerosmith" und eröffneten das "Monsters of Rock-Festival" in Castle Donington. Ein weiterer Erfolg stellte 1992 das Album "Laughing On Judgement Day" dar.


Event Alert for Thunder
Video
Biography
Seit der Gründung 1989 haben Thunder zwanzig Top-Fünfzig UK Singles, zwei Goldalben und einen Ruf als perfekte Live-Performer aufgebaut. Mit einer Linie, die auf die Creme des britischen Hard Rock - Led Zeppelin, Bad Company, The Who und Deep Purple - und Songwriter-Größen wie The Kinks, The Beatles und The Faces zurückgeht, ist der Sound der Band eine zeitlose Verbindung aus unvergesslichen Melodien und purer Rockkraft. Ihre Live-Shows sind gekennzeichnet durch hohe Energie und Spaß.

Ende des Jahres 1992 stieg Luckhurst aus, der durch Mikael Höglund ersetzt wurde. 1999 kam das Album "Giving the Game Away" auf den Markt, kurz darauf trennte sich die Band. Woraufhin Thunder 2002 durch eine Reunion, aufgrund einer Einladung, bei einem "Monsters of Rock-Festival" auftrat. Das Album "Shooting at the Sun" erschien 2003. Daraufhin folgte für Thunder ein deutlicher Aufschwung, in dessen Windschatten das Album "The Magnificent Seventh" im Februar 2015 entstand. Nach der Aufnahme des Studioalbums "Bang!" trennten sich Thunder 2009 erneut.

Jedoch trat die Band trotz der Trennung weiterhin auf, wie zum Beispiel 2013 beim Wacken Open Air in Schleswig-Holstein. 2015 erschien dann das neue Album "Wonder Days", welches die Nummer 9 in den britischen Album-Charts erreichte. Außerdem stellte Thunder 2016 beim "Louder Than Words-Festival" in Manchester ihre Autobiografie "Giving The Game Away" vor, die vom Bestseller-Autor Joel McIver verfasst wurde. Die Veranstaltung war innerhalb von Stunden ausverkauft und beinhaltete Gespräche der Band Mitglieder mit McIver, sowie eine Akustik-Performance von Thunder. 2017 bringt Thunder das Album "Rit It Up" heraus, außerdem kehrte Alice Cooper zurück zu Thunder.
Reviews