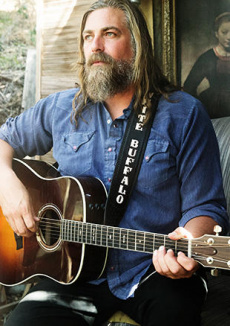 The White Buffalo Tickets
Wer die TV-Serie "Sons Of Anarchy" kennt, der hat bestimmt auch schon einmal den Namen Jakob A. Smith alias The White Buffalo gehört. Der kalifornische Sänger trug mit zahlreichen Songs zum Soundtrack der Biker-Serie bei. Der Song "Come Join The Murder" wurde sogar für einen Emmy in der Kategorie "Outstanding Music and Lyrics" nominiert.




Event Alert for The White Buffalo
Video
Biography
Geboren in Eugene, Oregon und aufgewachsen in Huntington Beach in Südkalifornien, ist der White Buffalo alles andere als ein Südstaatentier. Sonne, Strand und Surfbretter stehen in seiner Jugend eher im Programm. Da ist es nicht verwunderlich dass er erst im Erwachsenenalter zur Musik findet. Der Name The White Buffalo entsteht dabei eher zufällig.

Acht Jahre später kommt endlich der Durchbruch. Vielleicht brauchte The White Buffalo erst eine Herde, der er sich anschließen konnte. Serien wie"The Sons of Anarchy"  und "Californication" kommen ihm da gerade recht.

Mit seinem bereits fünften Album "Love and the Death of Damnation" bekommt man eine gewaltige Portion dunkler Blues-Nummern um die Ohren geschlagen. Bewegend und authentisch und immer ein bisschen zum Nachdenken.  Auch sein erstes Duett ist auf dieser Platte zu hören. Mit "I Got You" stimmen Audra Mae, Sängerin des Avicii Welthits "Addicted to You", und The White Buffalo eine gefühlvolle Country-Ballade ein, bei der einem das Herz schwer wird.

The White Buffalo klingt einfach anders und lässt sich nicht so richtig zuordnen. Eine Mischung aus Country und Rock mit einer Prise Blues. Der weiße Büffel grast in vielen Gefilden und bleibt sich selbst dabei stets treu.
Bekommt auch hier in Deutschland ein Gefühl vom wilden Westen und sichert euch The White Buffalo Tickets!

Reviews