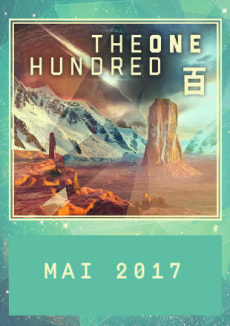 The One Hundred Tickets
Englische Crossover Musik aus London: THE ONE HUNDRED reißen ihre Fans so sehr mit, dass diese gar nicht wissen, ob sie lieber headbangen, ekstatisch rumhüpfen oder ihre Fäuste energiegeladen gen Himmel strecken sollen! Das ist auch kein Wunder, denn immerhin verbindet die Band viele Genres miteinander und es treffen zahlreiche unterschiedliche Emotionen und Klänge aufeinander. Die Crossover-Naturgewalt müssen Fans von Metal, Punk, Grime und Rap einfach miterleben.


Event Alert for The One Hundred
Video
Biography
Im Jahr 2012 beginnt die Erfolgsgeschichte der Londoner Band. Seit diesem Zeitpunkt beschäftigen sich die Engländer intensiv mit der Produktion von eigener Musik. Cover kommen für die Rocker nie in Frage und so erscheint 2014 ihre erste eigene EP mit dem Namen "Subculture". THE ONE HUNDRED klingen frech, frisch und teilweise etwas unverschämt – in jeden Fall machen sie jedoch Lust auf mehr! Interessant ist ebenfalls, dass die Mitglieder sich hierbei nicht nur auf die Rockszene beschränken, sondern immer wieder Inspiration im Bereich Metalcore und der Electroszene suchen. Nach einem Auftritt beim Heavy Fest in London, haben die Musiker von THE ONE HUNDRED ein Aha-Erlebnis. Sie erweitern ihre Band kurzerhand um einen weiteren Schlagzeuger und bedienen sich elektronischer Elemente - THE ONE HUNDRED in ihrer heutigen Form sind geboren!

THE ONE HUNDRED sind eine Band für Fans des ausgefallenen Musikerlebnisses. Ob wieder neue THE ONE HUNDRED Tickets verfügbar sind, erfährt man ganz einfach über den Eventalarm oder durch ein Newsletter-Abo. So sind Fans von THE ONE HUNDRED immer auf dem neusten Stand und verpassen auf keinen Fall die Chance auf eines der atemberaubenden Konzerte. Mit einem THE ONE HUNDRED Ticket fällt der Startschuss zu einem unvergesslichen Abend zwischen Metal, Punk und Rap-Einlagen unterlegt von elektronischen Klängen.

Reviews