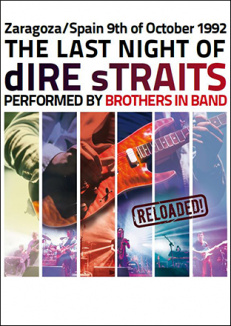 Brothers In Band tickets
1977 von Mark Knopfler und seinem Bruder David gegründet, hat sich die britische Rockband dIRE sTRAITS in ihren fast zwei Jahrzehnten musikalischen Wirkens zu einer wahren Legende der modernen Musikgeschichte gemausert. Mit mehr als 120 Millionen verkauften Alben weltweit sind die dIRE sTRAITS mehr als nur eine Band – sie sind ein echter Meilenstein. Und sie sind es wert, dass man ihnen huldigt!

Mit "THE LAST NIGHT OF dIRE sTRAITS PERFORMED BY BROTHERS IN BAND" hat die bROTHERS iN bAND um Bandleader Oscar Rosende eine Musical-Show auf so hohem Niveau geschaffen, dass selbst Originalbandmitglied der dIRE sTRAITS, Keyboarder Guy Fletcher, sie mit dem Original verwechselte: "Sie spielten 'Why Aye Man' und ich muss sagen, dass ich dachte es wäre eine Aufnahme von uns."

Die bROTHERS iN bAND lässt bei THE LAST NIGHT OF dIRE sTRAITS das letzte Konzert der legendären Rockband in Spanien wieder aufleben und überzeugt mit wahrlich beeindruckender Perfektion und Manpower: Oscar Rosendes Stimme und Gitarrenspiel kommt dem Mark Knopfler der 80er und 90er unglaublich nahe. Mit Rosende gemeinsam stehen neun Musiker auf der Bühne und zeigen mit rhythmischer Gitarre, elektronischem Bass, zwei Keyboard-Spielern, Schlagzeugern, Saxophonisten und einer sehr speziellen Pedal-Steel-Gitarre wie große die Macht der Live-Musik der dIRE sTRAITS noch immer ist.

Sichern Sie sich hier "THE LAST NIGHT OF dIRE sTRAITS PERFORMED BY BROTHERS IN BAND" Tickets online und erleben Sie die Kultband zurück auf der Bühne - dIRE sTRAITS reloaded!


Event alert for Brothers In Band
Video