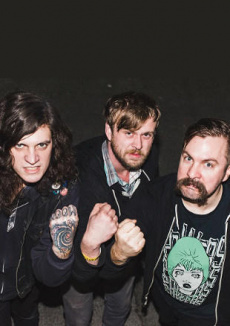 The Fall Of Troy Tickets
Unorthodoxe Songstrukturen treffen auf wahnsinnige Bühnenpräsenz: THE FALL OF TROY zählen nicht ohne Grund zu den bemerkenswertesten Vertretern der Post-Hardcore/Progressive-Szene!

2002 von den gerade einmal 15 Jahre alten High School Freunden Thomas Erak (Gitarre und Gesang), Tim Ward (Bass und Gesang) sowie Andrew Forsman (am Schlagzeug) als The Thirty Years War gegründet, benennt sich das US-Post-Hardcore Trio nach der der zweiten selbstproduzierten EP in THE FALL OF TROY um. Mit ihrem gleichnamigen Debütalbum erspielen sich THE FALL OF TROY zunächst im Nordwesten der USA einen veritablen Ruf, so dass sie für ihr zweites Album "Doppelganger" Nirvana und Foo Fighters Produzent Barrett Jones für sich gewinnen können. 2007 erscheint dann mit "Manipulator" das dritte Album von THE FALL OF TROY und das Trio tourt mit Genre-Größen wie den Deftones oder Coheed And Cambria.

Nach dem vierten Album "In The Unlikely Event" (2009), mit dem das Trio es erstmals in die US-Billboard-Charts schafft, löst sich die Band zum Schrecken ihrer immer größer gewordenen Fan-Base im Februar 2010 auf. Doch nach einigen Experimenten mit anderen Bands erkennen die Jungs, dass THE FALL OF TROY etwas Besonderes war und das diese Band noch lange nicht alle musikalischen Kapitel durchlaufen hat, die sie zu bieten hat. Nach ersten gemeinsamen Auftritten im Dezember 2013 folgen so im Januar 2015 die Ankündigung eines neuen Albums, eine fulminante Comeback-Tournee 2015 und die Veröffentlichung des fünften Albums "OK". THE FALL OF TROY sind zurück.

Wer diese kompakte und einzigartige Band-Einheit einmal live erleben will, bucht sich hier schnell seine THE FALL OF TROY Tickets – wenn verfügbar – oder meldet sich für Vorverkaufsinfos zum Eventalarm an.

Event Alert for The Fall Of Troy
Video
Reviews