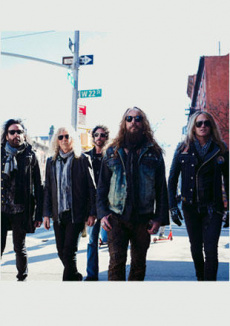 The Dead Daisies Tickets
2012 von Jon Stevens und David Lowy in Sydney und L.A. gegründet, begeistert das Musikerkollektiv THE DEAD DAISIES nicht nur mit einer wechselnden Starbesetzung der Superlative, sondern vor allem auch mit feinstem Hard Rock im Stile der 70er und frühen 80er.

Bei dem Musikprojekt THE DEAD DAISIES wirkten bereits folgende Musikgrößen mit: Richard Fortus (Guns N Roses), Jon Stevens (INXS, Noiseworks), David Lowy (Mink), Darryl Jones (The Rolling Stones), Dizzy Reed (Guns N Roses), Marco Mendoza (Thin Lizzy), Charley Drayton (The Cult, Divinyls, Cold Chisel), John Tempesta (The Cult), Brian Tichy (Whitesnake), Frank Ferrer (Guns N Roses), Alex Carapetis (Nine Inch Nails), Clayton Doley, Jackie Barnes (Jimmy Barnes), Alan Mansfield, Doug Aldrich, John Corabi (Mötley Crüe/Union), Jackie Barnes (Jimmy Barnes) und Bernard Fowler (The Rolling Stones).

Wer die DEAD DAISIES einmal live erleben will, meldet sich bei uns zum Eventalarm an für THE DEAD DAISIES Tickets an!

Event Alert for The Dead Daisies
Video
Reviews