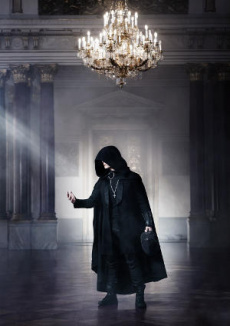 The Dark Tenor tickets
Der Crossover-Künstler THE DARK TENOR versteht es auf unnachahmliche Weise, starke Kontraste musikalisch und stilistisch zu kombinieren. Seine Tourneen sind bombastisch und romantisch zugleich! Eine Mischung von der sein Publikum einfach nicht genug bekommen kann!

Nur wenige Musiker der deutschen Poplandschaft vermögen ihr Publikum so zu fesseln wie THE DARK TENOR. Der ausgebildete Opernsänger, dessen bürgerlicher Name unbekannt ist, verbindet populäre Melodien aus Opern und Sinfonieorchestern mit neuen Texten und Melodien aus der Popmusik. Das Ergebnis ist ebenso einzigartig wie faszinierend und sorgt vor allem live für Gänsehaut und Emotionen pur!

Auf seinem Debütalbum "Symphony Of Light" erklingen die unsterblichen Melodien weltberühmter Komponisten wie Tschaikowski, Mozart oder Camille Saint-Saëns in neuem Gewand – verwoben mit selbstkomponierten Popelementen erklingt eine zeitlose Symphonie des Lichts.

Wer den fantastischen Sänger mit dem verhüllten Gesicht und dem düsteren Outfit auch einmal live erleben möchte, meldet sich am besten zu unserem Eventalarm an und wird benachrichtigt, sobald neue THE DARK TENOR Tickets verfügbar sind!

Event alert for The Dark Tenor
Video