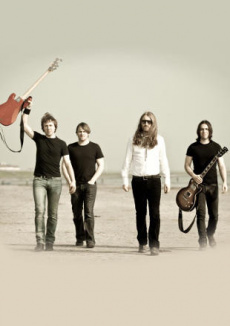 The Answer tickets
Im Frühling 2000 von Gitarrist Paul Mahon und Schulfreund Micky Waters (E-Bass) gegründet, zählen THE ANSWER mittlerweile zu Nord Irlands feinsten Rock-Exporten.

2002 folgte, mit Cormac Neeson als Sänger und James Heatley in finaler Besetzung, die erste EP "Breakdown Honey" von THE ANSWER, doch erst die zweite EP "End Your Day on a High" (2003) wird von den wichtigsten irischen Radiosendern auf die Playlists aufgenommen und THE ANSWER beschallen das Land auf einer großen Irland-Tournee mit 52 Konzerten!

Das Rock-Quartett spielt sich mit seinem Cock Rock Sound in die Köpfe der Konzertbesucher und wird 2005 für das Vorprogramm von Deep Purple und Whitesnake engagiert, was den endgültigen Durchbruch bedeutet. THE ANSWER werden mit einem Classic Rock Award als "Best New Band" ausgezeichnet, das Debütalbum "Rise" erscheint im Juni 2006 und wird vom Classic Rock Magazine als bestes britisches Rockdebüt des Jahrzehnts ("The best british rock début of the decade") bejubelt.

Seitdem teilten sich THE ANSWER mit Genre-Größen wie DAD, The Darkness, Alter Bridge, den Rolling Stones oder AC/DC die Bühne und tourten mit Headline-Konzerten durch die ganze Welt.

Mit ihrem jüngsten und sechsten Studioalbum "Solas" (das gälische Wort für "Licht") betritt die Rock-Formation um Frontmann und Sänger Cormac Neeson musikalisches Neuland: Das Album ist ein überwältigendes Modern Rock Album, in das erstmals auch die keltischen Wurzeln der Band mit einfließen.

"Solas is new and exciting. It's a deeper, darker slant on what we do and a piece of work we've building towards since we first started writing songs together in our loft. The fact that we get to debut this new material with our mates The Dead Daisies just adds to the rush we're currently experiencing. You really don't want to miss this one! " - Cormac Neeson

Wer keine Konzerte der nordirischen Rocker verpassen will, meldet sich bei uns zum Eventalarm an und wird als erstes benachrichtigt, sobald neue THE ANSWER Tickets für Live-Auftritte verfügbar sind!

Event alert for The Answer
Video