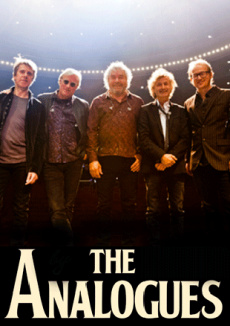 The Analogues Tickets
THE ANALOGUES haben eine Mission: Die fünf Musiker aus den Niederlanden haben es sich zur Aufgabe gemacht, die grandiosen Alben der Beatles, die nie live gespielt wurden, auf die Bühne zu bringen. Und zwar genau so, wie es die Beatles selbst getan hätten: Mit Instrumenten aus den Sechzigern, Original Equipment und zahlreichen Streichern, einer Harfinistin sowie Tablaspieler. Analog eben.



Event Alert for The Analogues
Video
Biography
Als die Beatles am 29. August 1966 im Candlestick Park in San Francisco ein Konzert geben, soll es nach 1.400 Auftritten das letzte sein. Die Kreativität der Pilzköpfe entlädt sich fortan gebündelt in sechs Studioalben, die die Grenze von Pop zu Kunst überschreiten. Die Alben Revolver, Sgt. Pepper's Lonely Hearts Club Band, Magical Mystery Tour, The White Album, Let it Be und Abbey Road erlangen Schnell ikonischen Status – werden aber nie live gespielt.

Und genau hier kommen Bart van Poppel (Bass, Keyboard, Gesang), Jan van der Meij (Gitarre, Gesang), Fred Gehring (Schlagzeug, Gesang), Diederik Nomden (Keyboard, Gitarre, Gesang) und Jac Bico (Gitarre, Gesang) ins Spiel. Als THE ANALOGUES vollbringen sie das, was lange Zeit undenkbar war: Diese innovativen Alben, die mit so viel Experimentierfreude und Studiotechnik entstanden, live auf die Bühne zu bringen – ganz ohne digitale Unterstützung.

Rund um den Globus reisen die Vollblutmusiker, um Instrumente aus der Zeit der Beatles zu erstehen – und schaffen so, den authentischen Sound der Beatles live erklingen zu lassen. "Mit geschlossenen Augen hört man die Beatles", staunt Het Parool und auch die Briten selbst jubeln: "Ein musikalisches Wunder aus Holland." (Eastern Daily Standard)

Wer ein super Konzert mit authentischem Beatles Sound und ganz ohne Kostüme oder Pilz-Perücken erleben möchte, der ist bei THE ANALOGUES genau richtig. Unser Eventalarm sagt Bescheid, sobald wir neue Tickets verfügbar haben.
Reviews