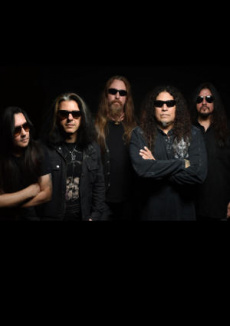 Testament tickets
1983 unter dem Namen "Legacy" gegründet, haben die Musik-Veteranen von Testament zusammen mit Größen wie Metallica, Slayer, Anthrax und Megadeath den amerikanischen Thrash Metal mitbegründet.

Ihr Debüt "The Legacy" von 1987 schafft es auf über 150.000 verkaufte Platten, der Opener "Over The Wall" wird zum meistgespielten Song ihrer Karriere. Während das zweite Album "The New Order" von 1988 zum ersten Mal in den Billboard 200 landet, kann die Gruppe um Sänger Chuck Billy mit dem dritten Album "Practise What You Preach" nur ein Jahr später ihren Status als treibende Kraft des Thrash Metal manifestieren!

Das Album verkauft sich eine halbe Million Mal und ist der Anführer zahlreicher weiterer Alben wie "Souls Of Black" (1990), mit dem Testament im Rahmen der inzwischen legendären "Clash Of The Titans"-Tour zusammen mit Megadeth, Slayer und den Suicidal Tendencies nach Europa kommen.

Allein in den USA haben Testament über 1,5 Millionen Platten verkauft und reißen ihre Konzertbesucher heute noch genauso wie vor 20 Jahre mit. Tickets für diese Thrash-Legenden lohnen sich definitiv!


Event alert for Testament
Video