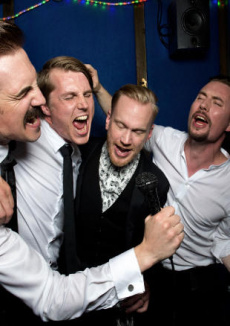 Royal Republic tickets
2007 in Malmö gegründet, geben ROYAL REPUBLIC 2010 ihr Debütalbum "We Are The Royal" heraus. Sowohl Fans als auch Kritiker feiern die neue Alternative/Hard Rock Band, die mit ihren ersten drei Singles konsequent auf Platz 1 der Bandit Rock's Most Wanted Liste landet.

In Deutschland wird das schwedische Quartett, das aus Frontmann Adam Grahn (Gesang und Gitarre), Hannes Irengard (Gitarre), Jonas Almén (Bass) und Per Andreasson (Drums) besteht, vor allem durch die großartigen Support-Auftritte bei Tourneen der Donots oder der Toten Hosen bekannt. Das zweite Album "Save The Nation" nehmen ROYAL REPUBLIC 2012 erstmals in Berlin auf, das sie nach dem Drittling schon als eine zweite Heimat bezeichnen.

Mit ihrem dritten Album "Weekend Man" ist es ROYAL REPUBLIC gelungen, ihr bislang besten, dringlichstes und mitreißendstes Album aufzunehmen. Frontmann Adam Grahn erklärt, wie nah die einzelnen Musiker seit Bandbestehen zusammengerückt sind und wie wunderbar es war, gemeinsam am neuen Album zu arbeiten: "Wir haben ein extrem starkes Royal Republic-Album aufgenommen, mit dem wir unserer eigenen Wahrheit sehr nahe kommen. Zu hören und zu erleben, wie diese Songs zusammenkamen: Das war ein konstantes Hoch."

Wer auf Garagenrock aus königlichen Gitarren steht, der meldet sich am besten bei uns zum Eventalarm an und erfährt direkt, sobald neue ROYAL REPUBLIC Tickets und Tour-Termine verfügbar sind.

Event alert for Royal Republic
Video