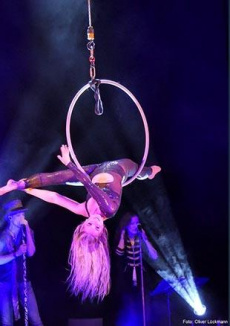 Rock The Circus Tickets
Stuart Glover, englischer Tänzer, Schauspieler, Singer und Songwriter, war bereits in der Vergangenheit am Erfolg von Produktionen wie "X-Factor" oder "Top of the Pops" beteiligt. Als Autor, Choreograph, Produzent und Regisseur hat er sich aber vor allem auf die Entwicklung ausgefallener Theatershows mit Wow-Effekt spezialisiert.

Mit ROCK THE CIRCUS – MUSIK FÜR DIE AUGEN ist Stuart Glover genau das gelungen. Eine 6-köpfige Band bestehend aus waschechten Vollblutmusikern, die bereits mit Superstars wie Jennifer Lopez, Robin Gibb oder Chris de Burgh arbeiteten, spielt live Welthits von Größen wie ACDC, Guns 'n' Roses, Pink Floyd oder Queen. Dazu liefern internationale Akrobaten packende Artistik auf Weltklasse-Niveau. Diese Show fesselt rund 2 Stunden ihr Publikum und lässt die Augen tanzen!



Event Alert for Rock The Circus
Reviews