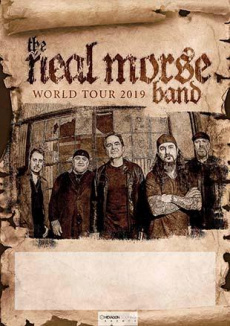 The Neal Morse Band Tickets
Die leidenschaftliche, fünfköpfige Neal Morse Band aus den USA wurde von dem erfahrenden Musiker Neal Morse ins Leben gerufen. Geprägt wird die Musik der Neal Morse Band von Progressive Rock, allerlei Stilen wie Pop, Rock, Metal, Folk, Country und Gospel Einflüssen.



Event Alert for The Neal Morse Band
Video
Biography
Neal Morse agiert als Sänger, Gitarrist und Keyboarder; Mike Portnoy ist Herr des Schlagzeugs und ebenfalls am Gesang beteiligt; Randy George beherrscht den Bass so gut wie niemand anderes; Bill Hubauer tobt sich am Keyboard aus und unterstützt den Gesang; last but not least: Eric Gillette ist talentierter Gitarrist und ebenfalls gesanglich am Mikro unterwegs.

Das Besondere bei der Band ist, dass zwar Neal Morse tonangebend bei The Neal Morse Band ist, sich jedoch die ganze Band beim Schreiben und arrangieren der Musik austobt. Außerdem bekommen alle Mitglieder der Band ihren Einsatz als Lead-Sänger.

The Neal Morse Band war mit Alben wie "The Similitude Of A Dream" oder "The Grand Experiment". in den Top 100 sowohl Deutschland als auch der Schweiz vertreten. "The Similitude Of A Dream" ist das insgesamt zweite Werk der Band gewesen, gefolgt von dem Doppel-Konzept-Album "Snow" mit einer Länge von mehr als 100 Minuten Musik. Als Vorlage hierfür diente "The Pilgrim's Progress" von John Bunyan, welches ein erfolgreiches Werk der christlichen Literatur ist.

Wer sich für unseren Eventalarm registriert, wird benachrichtigt, sobald neue Termine und The Neal Morse Band Tickets verfügbar sind!

Reviews