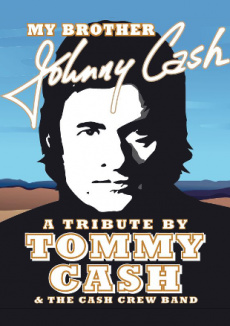 My Brother Johnny Cash tickets
Er war einer der großartigsten und einflussreichsten Musiker des 20. Jahrhunderts: Johnny Cash. Mit seiner einmaligen Stimme und seinem eingängigen Country-Sound wurde er schnell zum Idol einer ganzen Generation und verdrehte den Frauen Reihenweise die Köpfe. Unvergessen sind Hits wie "I Walk The Line", "Ring Of Fire" oder "One".

Mit MY BTOHER JOHNNY CASH setzen Tommy Cash und The Cash Crew Band dem Country-Idol ein würdiges musikalisches Denkmal und ehren in einer aufwendigen Multimediainszenierung die größten Hits des legendären großen Bruders Johnny Cash. Mit beeindruckender Bassbariton-Stimme ist Tommy Cash, der jüngste von den sieben Kindern der Cash-Familie, eine perfekte Besetzung, der darüber hinaus auch von Abschnitten aus dem gemeinsamen Leben mit dem Vollblutmusiker berichten kann. Seltene und private Bilder und Filme zeigen Johnny Cash, während seine wunderbaren Melodien erklingen.

Wer mit Tommy Cash eine musikalische Zeitreise unternehmen möchte, registriert sich für unseren Eventalarm und wird benachrichtigt, sobald neue MY BROTHER JOHNNY CASH Tickets verfügbar sind!

Event alert for My Brother Johnny Cash