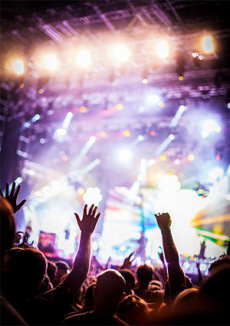 Michael Bublé tickets
Rein äußerlich könnte er auch Mitglied einer Boyband sein - Michael Bublè. Doch der kanadische Musiker kann noch so viel mehr. Der Sänger interpretiert Swing-Songs genauso erfolgreich wie Rock-Klassiker. Mit seinen Neuinterpretationen trifft Michael Bublè genau ins Schwarze - neben internationalen Chartplatzierungen konnte der Kanadier bereits vier Grammys abstauben.

Event alert for Michael Bublé
Video
Artist biography
Den großen Durchbruch verdankt Michael Bublè aber eher einem Zufall. Anfänglich verdiente er seine Brötchen als Hochzeitsänger. So kam es, dass er im Jahr 2000 Kurt Weills "Mack the Knife" auf der Hochzeit von Brian Mulroneys Tochter Caroline sang. Unter den Gästen befand sich kein Geringerer als David Foster, mehrfachen Grammy-Gewinner, sowie Produzenten bei Warner Brothers. David Forster war so begeistert von Michael Bublès Auftritt, dass er ihn ohne lange zu überlegen unter Vertrag nahm.

2003 veröffentlichte er sein Debütalbum "Michael Bublé" - sein erstes Werk feierte Charterfolge in den USA, Großbritannien, Australien, Kanada und wurde mit Platin ausgezeichnet. Auch seine weiteren Alben "It's Time" (2005), "Call Me Irresponsible" (2007), "Crazy Love" (2009), "Christmas" (2011), "To Be Loved" (2013) und "Nobody But Me" (2016) platzierten sich weltweit in den Top-10 der Charts. Schon heute kann "Michael Bublé" auf eine beispiellose Karriere zurückblicken, neben zahllosen Charterfolgen wurde er bereits viermal mit dem begehrten Grammy-Award ausgezeichnet.

Wer die Neuinterpretationen des charismatischen Jazz-Künstlers live erleben will, meldet sich hier schnell zum Eventalarm an und wird benachrichtigt, wenn wir Michael Bublè Tickets für neue Konzerte im Angebot haben.