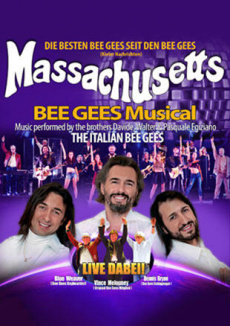 Massachusetts - Das Bee Gees Musical Tickets
Die Bee Gees sind wahre Ikonen der Popgeschichte. Mit ihrem Namen unzertrennlich verbunden sind echte Welthits, wie zum Beispiel "Night Fever" oder "Massachusetts". Um die großartige Musik der Band noch einmal nachempfinden zu können, strömen Fans weltweit zu Musicals mit Bee Gees-Songs im Programm. Besonders nah am Original performen The Italian Bee Gees Walter, Davide und Pasquale Egiziano aus Paola in Kalabrien, drei italienische Brüder, die es sich zur Aufgabe gemacht haben, das Vermächtnis der tatsächlichen Bee Gees am Leben zu erhalten, in MASSACHUSETTS – DAS BEEGEES MUSICAL.




Event Alert for Massachusetts - Das Bee Gees Musical
Video
Biography
The Italian Bee Gees starteten ihre Karriere im Juli des Jahres 2000, als sie erstmals mit einem Tribut an die Gebrüder Gibb, die die Familienband Bee Gees bildeten, auftraten. Es folgten bis heute viele hundert Auftritte, die viele echte Bee Gees-Fans staunend zurückließen und sogar das Original begeisterte: Absolutes Highlight in der Karriere der Italian Bee Gees war nämlich eine Einladung der Gibbs selbst zur großen Gala des 50-jährigen Bestehens der Bee Gees! Seither reißen sich Fans der Bee Gees um Tickets für The Italian Bee Gees, die von verschiedenen Medien zur "Auferstehung einer Kultband" erklärt wurden. MASSACHUSETTS – DAS BEEGEES MUSICAL bringt eine der größten Bands der Musikgeschichte authentisch zurück auf die Bühne und lässt ihre Erfolge noch einmal aufleben.

Besonderes Highlight des Musicals ist, dass die langjährigen Begleiter der Bee Gees Blue Weaver, Dennis Bryon und Vince Melouney mit von der Partie sind und sich auf der Bühne höchstpersönlich die Ehre geben. Wer sich bei uns zum Eventalarm registriert, verpasst nicht, wenn Tickets für MASSACHUSETTS – DAS BEEGEES MUSICAL zur Verfügung stehen.
Reviews