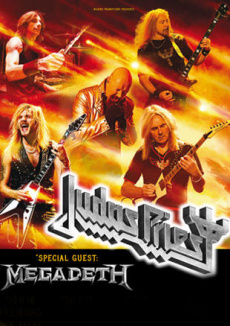 Judas Priest Tickets
Wenn Musikfans an Heavy Metal denken, ist JUDAS PRIEST für viele die erste Band, die ihnen einfällt. Diesen Status haben sich JUDAS PRIEST nach unzähligen Line-Ups sowie stilistischen Veränderungen hart erarbeitet. In den Achtzigern wurden sie zu echten Rockstars, inzwischen haben sie über 45 Millionen Alben verkauft. Nach nunmehr 45-jährigem Bestehen geht es bei JUDAS PRIEST mit neuen Konzepten und Studioalben weiter.


Event Alert for Judas Priest
Video
Biography
Mit dem damaligen Line-Up Al Atkins, John Perrys, John Partridges und Bruno Stapenhills, in dessen Haus die Bandproben stattfanden, haben JUDAS PRIEST 1969 begonnen. Ihren Namen hat die Band aus dem Bob Dylan Song "The Ballad of Frankie Lee and Judas Priest" entlehnt. Ursprünglich spielten JUDAS PRIEST progressiven Blues-Rock, den man ihrem ersten Album "Rocka Rolla", welches 1974 erschien, noch deutlich anhört.

Nach einigen Jahren löste sich diese Formation jedoch auf und Atkins schloss sich K.K. Downings Band an. Dieser hatte zuvor für Atkins Band vorgespielt, war aber abgelehnt worden. Die Band wurde umbenannt in JUDAS PRIEST und wendete sich fortan zunächst dem Hard-Rock und schließlich dem Heavy-Metal zu. Mit ihren außergewöhnlichen Shows, ihren Lederoutfits und Nietenhalsbändern prägten sie den Stil der Szene nachhaltig. Über die Jahrzehnte hinweg hat sich der Stil von JUDAS PRIEST mehrmals stark verändert, dem Heavy-Metal ist die Band jedoch treu geblieben.

Mit ihrem neuesten Album "Redeemer of Souls" beweisen JUDAS PRIEST, dass die Band auch nach Jahrzehnten nichts von ihrer Energie eingebüßt hat. Mit einem JUDAS PRIEST Ticket bekommen Metal- und Hard-Rock-Fans das Versprechen auf ein Feuerwerk virtuoser Heavy-Metal-Geschichte. Es gilt, unseren Newsletter oder unseren Eventalarm zu abonnieren und so rechtzeitig JUDAS PRIEST Tickets zu sichern, wenn die Urgesteine des Heavy Metal wieder in der Stadt sind.
Reviews