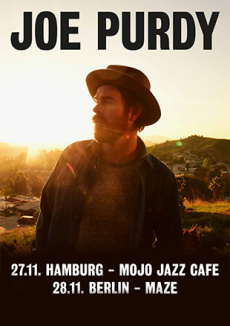 Joe Purdy Tickets
Ein Mann und seine Gitarre. JOE PURDY ist ein Name den man sich merken sollte. Mit dem kristallklaren Klang seiner Akustikgitarre und einer Stimme die nicht sanfter und ergreifender sein könnte, weckt er Gefühle, die man vorher von sich selbst nie kannte.

Der Folksänger, aus dem nordamerikanischen Bundesstaat Arkansas, veröffentlichte seit 2001 bereits ein Dutzend Alben, welche schon mehr als eine Millionen Mal verkauft wurden. Mit einer ganz eigenen Mischung aus Folk, Blues und Country erzählt er tiefgründige Geschichten mitten aus dem Leben.

Das US-Magazin The Ripple Effect erklärt: "Joe Purdy ergreift die Seele und Gemütslage des Hörers, unterrichtet über Geschichte, Liebe und Ehrlichkeit und erfreut uns von tiefem Herzen."

Kein Wunder, dass seine Musik ergreifende Szenen in TV-Serien und -Filmen wie, "Lost", "Grey's Anatomy", "Dr. House", oder dem US-Drame "Die Bienenhüterin" untermalt. Die  THE WHO Musiklegende Pete Townsend war sogar so begeistert von Joe Purdy, dass er ihn einlud gemeinsam mit ihm auf der Bühne zu spielen.

Joe Purdy's aktuelles Album "Who Will Be Next?" erinnert an die große Zeiten vergangener Folk-Legenden wie Bob Dylan, Woody Guthrie oder Pete Seeger, aber behält dabei dennoch seine ganz eigene Note.

Jetzt kommt Joe Purdy im November zum ersten Mal für zwei Konzerte nach Deutschland. Joe Purdy Tickets gibt es direkt bei uns!




Event Alert for Joe Purdy
Reviews