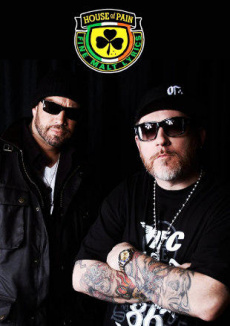 House of Pain Tickets
HOUSE OF PAIN, die Rap-Band aus den USA, die sich stilistisch irgendwo zwischen Big Daddy Kane und Cypress Hill ansiedelt, liefert außergewöhnliche Livekonzerte. Die Band schreibt 1992 mit dem Song "Jump Around" Hip-Hop-Geschichte. Der Song ist seit der Veröffentlichung ihres Debütalbums "House of Pain" von der Liste der Party-Kracher nicht mehr wegzudenken. Obwohl sich die Band 1996 auflöst, sind sie immer mal wieder auf einzelnen Tourneen zu sehen. HOUSE OF PAIN Tickets sind für echte Hip Hop Fans ein absolutes Muss!

Event Alert for House of Pain
Biography
HOUSE OF PAIN besteht aus den MCs Danny Boy sowie Everlast (Erik Schrody) und wird durch DJ Lethal komplettiert. Das Trio macht nach seinem Debütalbum oft durch Alkoholexzesse und unerlaubten Waffenbesitz von sich reden. Die Jungs kommen so häufig mit dem Gesetz in Konflikt, dass der geplante Pub der Band nie Realität wird.

Das zweite Album "Same as it ever was" kann zwar nicht ganz an den Erfolg des Debütalbums anknüpfen, erreicht aber trotzdem den Gold-Status. Das dritte Album wird leider kaum mehr beachtet. Die Jungs von HOUSE OF PAIN sind für die Ewigkeit mit einem Song gezeichnet: "Jump Around" ist für immer unvergänglich. Nach der Auflösung der Band verfolgen die Mitglieder andere Projekte. Everlast hat eine Solokarriere begonnen und seither sechs Alben veröffentlicht. DJ Lethal scratcht mittlerweile sehr erfolgreich für die Band Limp Bizkit. Das Projekt A.T.F. (Alcohol, Tobacco, Firearms) von Danny Boy verläuft jedoch im Sand.

Die Rap-Band geht 2011 auf Reunion Tour, bei der sie unter anderem fünf Konzerte in Deutschland spielen. Wer sich für spaßigen Party Hip Hop und Tickets von HOUSE OF PAIN interessiert, erfährt in unserem Newsletter und dem Eventalarm alles über Ticketverkäufe für kommende die Shows auf myticket.de.

Reviews