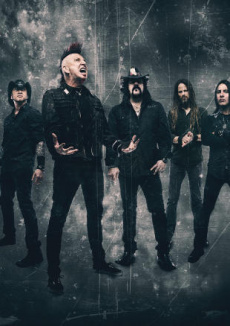 Hellyeah Tickets
Es ist Slipknots "Tattoo The Earth" Tour 2001, die die späteren Mitglieder von Hellyeah erstmals zusammenführt. Schnell ist man sich sympathisch und musikalisch auf einer Wellenlänge, doch bis zur Gründung der neuen Formation dauert es noch. 2006 ist es dann so weit: Der legendäre Ex-Pantera/Damageplan-Schlagzeuger Vinnie Paul, die ehemaligen Mudvayne-Mitglieder Chad Gray (Gesang, Gitarre) und Gregg Tribbett (Gitarre) sowie Tom Maxwell (Gitarre) und Joey Montano (Bass) von Nothingface gründen zusammen die Hard Rock Band Hellyeah.

Schon das Hellyeah-Debüt erreicht Platz 9 der US-Billboard-Charts. Es folgen diverse Tourneen mit Größen wir Korn, Evanescence, Disturbed oder Avenged Sevenfold, ein nicht minder erfolgreiches zweites Album und eine Welttournee, das Hellyeah auch auf die großen europäischen Festivals führt. Zusammen mit Megadeth, Black Label Society, Device, Bewsted und Death Division präsentiert Hellyeah sein drittes Album "Band Of Brothers" auf der "Gigantour 2013" in den USA.

Nach dem Ausstieg von Tribbett und Kahaha (ersetzt durch den Bloodsimple-Bassisten Kyle Sanders und Gitarrist Christian Brady) nimmt die Band das vierte Album "Blood For Blood" auf und erreicht völlig verdient die Pole-Position in den US-Billboard Hard Rock Charts! Bitte so weitermachen!


Event Alert for Hellyeah
Reviews