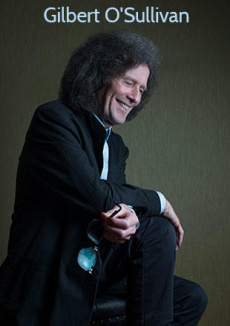 Gilbert O´Sullivan Tickets
Der gebürtige Ire Gilbert O´Sullivan zog im Alter von sieben Jahren mit seiner Familie nach Swindon, England und wurde nach einer Ausbildung Student am Swindon Art College, spezialisiert auf Grafikdesign. Seine Liebe zur Musik setzte sich jedoch durch und nachdem er als Schlagzeuger/Sänger Bands gegründet und beigetreten war, begann er, beeinflusst von Musikern wie den Beatles und Bob Dylan, seine eigenen Songs zu schreiben.




Event Alert for Gilbert O´Sullivan
Video
Biography
Die erste Single von Gilbert O´Sulliva, "Nothing Rhymed", wurde 1970 ein voller Erfolg und landete in den britischen Top-Ten-Hits. Es folgten weitere Hitsingles und ein Debütalbum. "Alone Again" (Naturally) war jedoch für den Durchbruch von Gilbert O´Sullivan verantwortlich. Sechs Wochen lang wurden die USA-Charts von dem Lied angeführt und es erhielt drei Grammy-Nominierungen. Die britischen Nummer-1-Hits ließen nicht lange auf sich warten und es waren gleich drei davon. "Clair", "Get Down" und die LP "Back to Front".

Außerdem wurde Gilbert O´Sullivan bei den 18. Ivor Novello Awards zum "Songwriter oft he Year" ernannt. Es folgten viele ausverkaufte Konzerte, "Why Oh Why Oh Why Oh Why" feierte einen weiteren UK Top-10-Hit und gewann 1974 einen dritten Ivor Novello Award.

Der internationale Hit "What´s In A Kiss" wurde 1990 veröffentlicht. "The Berry Vest of Gilbert OSullivan" führte Gilbert O´Sullivan in den 200er Jahren zurück in die Top 20 des Vereinigten Königreichs und "Gilbertville", erlangte in Großbritannien und Japan großen Erfolg. Wer Gilbert O´Sullivan live erleben möchte, kann sich bei uns zum Eventalarm oder Newsletter anmelden und wird benachrichtigt, sobald wir Gilbert O´Sullivan Tickets haben.

Reviews