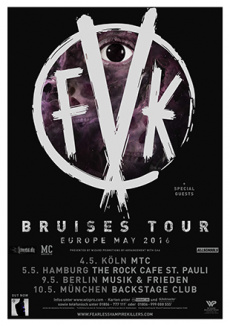 Fearless Vampire Killers tickets
Seit 2008 begeistern die FEARLESS VAMPIRE KILLERS mit ihrem alternativen Rocksound und das Kerrang! Magazin kürte die fünf Briten um Frontmann Laurence Beveridge 2011 sogar unter "10 besten Unsigned Bands in Großbritannien".

Mit ihrem harmonischen Mix aus Glam, Pop-Punk und Alternative Rock werden die FEARLESS VAMPIRE KILLERS von Fans und Kritikern gleichermaßen gehyped und als ebenbürtige Nachfolger von Genre-Größen wie My Chemical Romance oder Panic At The Disco gehandelt. Das Debütalbum "Militia Of The Lost" von Laurence Beveridge (Gesang & Gitarre), Kier Kemp (Gesang & Gitarre), Cyrus Barrone (Gitarre), Drew Woolnough (Bass) und Luke Illingworth (Schlagzeug) erscheint 2012 und führt die junge Band im Turboschritt auf Tourneen durch Groß Britannien, Amerika und Europa.

Wer die Band, die sich nach dem Polanski Film benannte, live erleben will, meldet sich am besten für unseren Eventalarm an und wird benachrichtigt, sobald neue Termine und FEARLESS VAMPIRE KILLERS Tickets verfügbar sind.


Event alert for Fearless Vampire Killers
Video