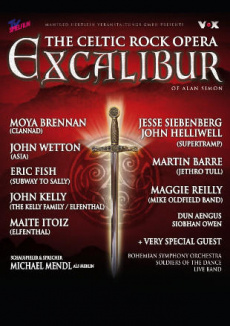 Excalibur Tickets
Eine Rock-Oper, die in die sagenumwobene Welt von König Arthur entführt: Geeignet für Rock- und Oper-Fans, aber auch für Freunde des Mittelalters. Die bekannte Sage rund um König Arthur, die Ritter der Tafelrunde, Merlin und EXCALIBUR kehrt jetzt wieder auf die Bühne zurück. EXCALIBUR Tickets sind ein Muss für Freunde von guter Musik und bombastischen Shows.

Event Alert for Excalibur
Biography
Die Geschichte ist alt, aber alles andere als langweilig: Zu Beginn entkommt Merlin dem Bann der Zauberin Morgana und stellt nach kurzer Zeit fest, dass die ritterlichen Tugenden in der letzten Zeit etwas ins Wanken geraten sind. Vor Wut entfesselt er einen Zauber, der einen Drachen beschwört.

Was dann passiert, müsste Alan Simon, der bretonische Folk-Rock-Barde und Komponist, am besten wissen. Ihm ist es zu verdanken, dass die keltische Rock-Oper EXCALIBUR wieder auf die Bühnen der Welt zurückkehrt. Bereits seit mehr als 15 Jahren sorgt die Show bereits für Unterhaltung und schlägt mit dem Programm "The Dark Age of The Dragon" ein neues Kapitel auf.

Musikalisch vereint EXCALIBUR Rock, melodische Balladen und keltische Melodien zu einem fulminanten Feuerwerk der Musik. Bekannte Künstler wie Roberto Tiranti (Labyrinth), Michael Sadler (SAGA), Maite Itoiz (Elfenthal), Jesse Siebenberg (Supertramp) und sogar Eric Fish (Subway to Sally) geben sich die Ehre, diese Oper zu einem einzigartigen Klangerlebnis zu machen. Unterstützt werden die Musiker und Schauspieler vom preisgekrönten Bohemian Symphony Orchestra Prague.

Reviews