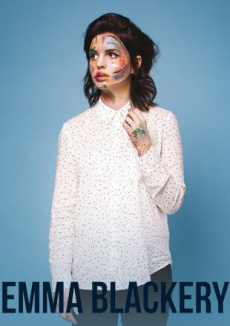 Emma Blackery Tickets
Rock und Pop aus Großbritannien: EMMA BLACKERY zählt zu den Shootingstars der Rock-Szene. Jung, provokant und ausgestattet mit viel Humor singt sich die Solokünstlerin nicht nur auf YouTube, sondern nun auch live in die Herzen ihrer Fans. EMMA BLACKERY Tickets sind die Chance, die Vloggerin im Reallife zu erleben.


Event Alert for Emma Blackery
Video
Biography
EMMA BLACKERY, die junge Rockgöre aus Großbritannien, startete ihre Karriere mit 21 Jahren und dem Release der EP "Human Behaviour" im Jahr 2012. Im Anschluss daran versuchte sie sich auf YouTube als Vloggerin. Nur ein Jahr später kam die zweite EP "Distance" (2013) auf den Markt. Diese erreichte Platz 1 der ITunes Rock Charts in weniger als einer Woche. Das Video des ausgekoppelten Songs "Go the Distance" erreichte mehr als 1 Millionen Views. Der Song "Perfect" aus ihrer dritten gleichnamigen EP erschien 2014 und stieg in den UK Rock & Metal Single Charts auf Platz 8 ein. "Perfect" ist ein Gute-Laune-Song, der zu mehr Selbstbewusstsein und Selbstliebe anregt. Damit traf EMMA BLACKERY den Zahn der Zeit und machte ihrem größtenteils jungen Publikum Mut. Darüber hinaus besticht EMMA BLACKERY durch ihren lebendigen, rockigen Sound und ihre ehrliche Art. So zeigt sie sich regelmäßig ungeschminkt in Videos und reflektiert in humorvoller Weise ihre vergangenen Videos oder Haarfarben.

Ihre drei YouTube-Channels sind sehr erfolgreich und geprägt von ihrem Leben als Musikerin versus normales Mädchen. Neben ihrem musikalischen Erfolg, brachte EMMA BLACKERY im September 2017 ihr Buch "Feel Good 101: The Outsiders Guide to a Happier Life" heraus, das sofort zum Bestseller wurde. Wer EMMA BLACKERY gern live erleben möchte, meldet sich am besten direkt bei unserem Eventalarm an, um sich EMMA BLACKERY Tickets schnellstmöglich zu sichern.

Reviews