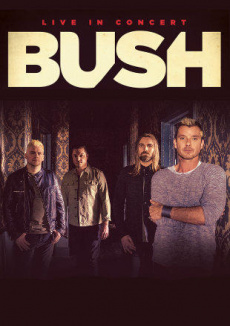 Bush Tickets
Nach ihrem ersten Auftritt im Shepherd's Bush 1991 wurde eine neue Ära des Rock eingeleitet. BUSH war geboren! Neben Frontmann Gavin Rossdale (Gesang) stand Nigel Pulsford an der Gitarre, Robin Goodridge am Schlagzeug und Dave Parsons am Bass. Stilistisch ordnete man BUSH zunächst oft dem Grunge zu. Diese unglaubliche Ähnlichkeit zu Kurt Cobains Stimmfarbe und Nirvanas Songs war enorm, besonders bei ihrem Debütalbum "Sixteen Stone".

Mit dem zweiten Album Razorblade Suitcase kam jedoch die Wende und die Band entwickelte sich in die Richtung Alternative Rock. Der wohl bekannteste Hit ihrer Karriere entstand mit diesem Album – Swallows. Auf The Science Things konnte man 1999 sogar die Stimme von Gavin Rossdales Ehefrau Gwen Stefani, ihres Zeichens Frontfau der Band No Doubt, hören. 2004 wurde das vorläufige Ende der Band bekannt gegeben. Gavin Rossdale veröffentlichte in dieser Zeit sein Soloalbum Wanderlust.

Nach fast acht Jahren Trennung formatierte sich die Band neu. Nigel Pulsford und Dave Parsons kehrten nicht zurück und wurden durch Chris Traynor und Corey Britz ersetzt. Mit "Black And White Rainbows" präsentiert sich BUSH nun mit ihrem mittlerweile siebten Studioalbum.



Event Alert for Bush
Video
Reviews