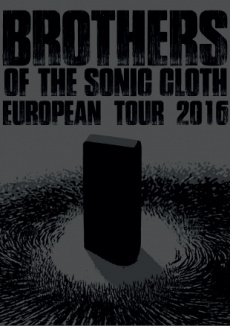 Brothers of the Sonic Cloth Tickets
Man kennt seinen Namen bereits seit Ende der 80er Jahre, Tad Doyle. Er ist das Urgestein der Seattle-Szene und prägte mit seinen Bands TAD und HOG MOLLY die Grunge-Ära. Ein wirklicher Durchbruch gelingt ihm mit den beiden Bands jedoch nie. Dennoch gilt TAD in Fankreisen als eine der wichtigsten Seattle-Bands aller Zeiten.

Seit 2008 arbeitet Doyle an seinem neuen Bandprojekt, BROTHERS OF THE SONIC CLOTH. Ein Trio mit ihm als Sänger und Gitarrist, Ehegattin Peggy Doyle am Bass und Dave French am Schlagzeug. Nach sechs Jahren kommt im Februar 2016 endlich das selbstbetitelte Debüt-Album "Brothers Of The Sonic Cloth" auf den Markt. Ein musikalisches Manifest brutaler Brachialität, tief dröhnend, mit einer aussagekräftigen Lautstärke. Die Gitarrenriffs jagen wie Kreissägen über angenehme Post-Punk Rhythmen, während die Kompositionen in sich gleichzeitig eine herzliche Wärme und eine eisige Kälte vermitteln. Ein gelungenes Werk hinter dem merklich eine große Erfahrung und Geschichte steckt.

Im April gehen BROTHERS OF THE SONIC CLOTH mit ihrem Manifest auf Europa-Tour.

Sichert euch noch schnell BROITHERS OF THE SONIC CLOTH Tickets und werdet Zeugen eines gewaltigen Doom-Metal-Erlebnisses.



Event Alert for Brothers of the Sonic Cloth
Video
Reviews