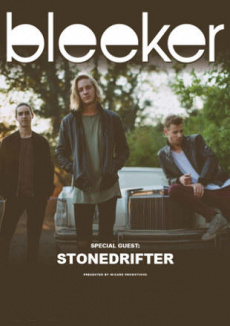 Bleeker Tickets
BLEEKER sind einzigartig. Schon zu Beginn ihrer Karriere, mit gerade mal zwölf Jahren, waren die vier Jungs aus Kanada, Taylor und Cole Perkins sowie Dan und Dustin Steinke, einfach anders – und so auch ihre Musik. Heute spielt die Band eine Mischung aus Groove und Alternative Rock und ist damit so erfolgreich, dass sie 2017 für den Juno Breakthrough Group of the Year Award nominiert waren.

Event Alert for Bleeker
Biography
Die Band BLEEKER besteht aus den Brüdern Taylor und Cole Perkins, welche die damals noch BLEEKER RIDGE genannte Band gemeinsam mit Dan und Dustin Steinke im Jahr 2003 gründeten. Lange Zeit spielte die Band in dieser Konstellation, bis die Brüder Steinke BLEEKER RIDGE 2016 verließen. Der Name wurde anschließend in BLEEKER geändert und während Taylor Perkins Lead-Sänger und Cole Perkins Gitarrist blieb, übernahm Mike Van Dyk den Bass.

Bereits 2004, ein Jahr nach der Gründung der Band, bei welcher die Mitglieder gerade einmal zwölf Jahre alt waren, veröffentlichten sie ihre erste Independent CD "Undertow". Im Jahr 2010 erschien BLEEKERs Album "Small Town Dead" und die gleichnamige Single schoss auf Platz 10 der Canadian Active Rock Charts. Ein Jahr später waren BLEEKER bereits auf großer Tournee, unter anderem mit My Darkest Days und Papa Roach. 2016 brachten BLEEKER dann ihr neustes Album "Erase" auf den Musikmarkt.

Nach wie vor ist die kanadische Band BLEEKER überall auf der Welt unterwegs und bietet mit ihren Live-Auftritten immer wieder Musik der Extraklasse. Wer sich das nicht entgehen lassen will, lässt sich durch unseren Eventalarm auf Auftritte, Konzerte und Tickets von BLEEKER aufmerksam machen oder abonniert unseren Newsletter, um immer auf dem neusten Stand zu bleiben.
Reviews