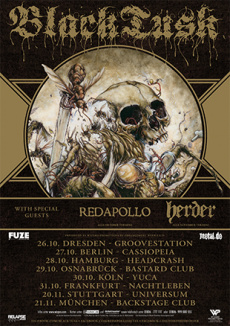 Black Tusk Tickets
Wenn man den Aussagen der Gründungsmitglieder von BLACK TUSK traut, dann wurde die Band 2005 vor allem aus einem geboren: Schweiß! Ein bisschen Blut, vielleicht auch ein paar Tränen, aber vor allem viel Schweiß hat es die drei lebenslangen Freunde Jonathan Athon (am Bass), Andrew Fidler (Gitarre) und James May (Schlagzeug) gekostet, ihre musikalische Attacke in Form von ihrer Band BLACK TUSK vom sumpfigen Savannah, Georgia in die Welt zu tragen. Und die Mischung aus aggressivem Gesang, dreckigem Punk, Sludge Heavy Metal, die sie selbst "Swamp Metal" nennen, haut rein!

Schnell wird das Trio, das eine EP nach der nächsten produziert, unter Vertrag genommen und veröffentlicht die Alben "The Fallen Kingdom" (2007), "Passage Through Purgatory" (2008), "Taste The Sin" (2010) und "Set The Dial" (2011). Dann, als gerade die Arbeiten an einem neuen Album laufen, kommt der große Schock: Im November 2014 verunglückt Jonathan Athon mit seinem Motorrad und stirbt mit nur 31 Jahren an den Verletzungen. Die Zukunft von BLACK TUSK ist zunächst unklar, doch dann rappeln sich die geschockten Freunde auf und beschließen, das musikalische Erbe mit ebenfalls einem guten Freund, Corey Barhorst, fortzuführen.

2016 erscheint endlich das neue, lang ersehnte Album "Pillars Of Ash" – und BLACK TUSK starten wieder voll durch! Wer keine Konzerte des Trios verpassen will, registriert sich für unseren Eventalarm und verpasst keine Gelegenheit auf BLACK TUSK Tickets!

Event Alert for Black Tusk
Video
Reviews