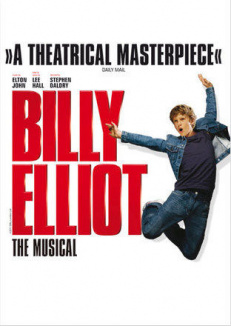 Billy Elliot - The Musical Tickets
11 Millionen Besucher, 83 Preise weltweit, Musik von Sir Elton John und eine Geschichte, die ebenso berührt wie inspiriert! BILLY ELLIOT – THE MUSICAL ist die Bühnenadaption von Regisseur Stephen Daldry, Texter Lee Hall sowie Choreograf Peter Darling zum gleichnamigen Film. Und was auf der Leinwand schon zutiefst bewegte, entfaltet live einen ganz unbändigen, freudigen Zauber!

Wie auch die Vorlage spielt BILLY ELLIOT – THE MUSICAL vor dem Hintergrund des Minenarbeiterstreiks in Durham, Nordengland in den Achtziger Jahren. Die Mutter gestorben, wird der kleine Billy von seinem Vater und seinem großen Bruder, die beide in den Kohleminen arbeiten und gegen die Schließung streiken, großgezogen. Doch der sensible Junge gerät so ganz anders als seine schlagkräftigen Vorbilder, die ihn zum wöchentlichen Boxtraining schicken, damit er sich im Alltag besser durchsetzen kann. Vom Boxring aus beobachtet er die Mädchen, wie sie an der Stange ihre Ballettübungen machen – und kann nicht anders, als selbst auch mitzutanzen…

BILLY ELLIOT – THE MUSICAL hebt mit seiner grandiosen Geschichte, den filigranen Tanzeinlagen, den kantigen Charakteren und den Ohrwurm-verdächtigen Melodien das Genre Musical auf ein ganz neues Level. Ein absolutes Muss für alle Musical-, Theater- und Tanzliebhaber!

Event Alert for Billy Elliot - The Musical
Video
Reviews