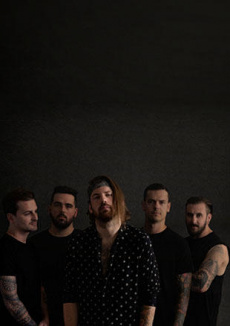 Beartooth Tickets
Mit ihrem beeindruckenden Debütalbum "Disgusting" haben es BEARTOOTH in nur zwei Jahren in den Hardcore Olymp geschafft. Ihre Hitsingles "The Lines", "Beaten in Lips", "In Between" und "Body Bag" wurden auf YouTube über 10 Millionen Mal angesehen. Sänger Caleb Shomo schafft es mit seinen authentischen Texten immer wieder, eine echte Verbindung zu seinem Publikum aufzubauen und es auf der Stelle mitzureißen.

Event Alert for Beartooth
Video
Biography
Themen, von denen sich die Leute angesprochen fühlen, gepaart mit starken, aggressiven Klängen machen BEARTOOTH zu einer der erfolgreichsten Hardcore-Bands der letzten Jahre und zu einem absoluten Muss für jeden Fan.

Sänger Caleb Shomo gründete BEARTOOTH 2012, nachdem er bei seiner alten Band Attack, Attack! rausgeworfen worden war. Gemeinsam mit den Gitarristen Taylor Lumley und Kamron Bradbury sowie Bassist Oshie Bichar und Schlagzeuger Brandon Mullins schaffte es Shomo innerhalb weniger Jahre, mit BEARTOOTH von einer unterschätzten Spaßband zu einem gefeierten Geheimtipp innerhalb der Hardcoreszene aufzusteigen. BEARTOOTH tourten bereits mit Metalgrößen wie Slipknot, Pierce The Veil, Bring Me The Horizon, und Sleeping With Sirens und wissen somit aus Erfahrung, wie sie ihrem Publikum so richtig einheizen können.

Die einzigartige Kombination aus Metalcore, Old-School Punk und Vintage Screamo mit anspruchsvollen, emotionalen Texten macht BEARTOOTH zu einem absoluten Erlebnis, das sich kein echter Hardcorefan entgehen lassen sollte. Wer seine Gefühle auch gerne mal herausschreit oder auf so richtig laute Musik steht, für den ist BEARTOOTH genau das Richtige. Um sich den Stress zu ersparen, lange nach den Tickets für den nächsten Auftritt von BEARTOOTH zu suchen, bietet sich unser Eventalarm geradezu an. Einmal angemeldet, wird Vorverkauf von BEARTOOTH Tickets und damit kein Konzert mehr verpasst.
Reviews